As previously introduced, high blood total testosterone concentration tends to lead to longer life, and testosterone replacement therapy (TRT) for those aged 60 and older has effects such as improving muscle strength. In addition, low testosterone levels cause sexual dysfunction, cognitive function/mood disorder, decrease in muscle mass, increase in visceral fat, insulin resistance-mediated metabolic syndrome, anemia, decrease in bone density, and significantly lower QOL in men. 
You can calculate your AMS score at the following site. A score of 27 or above indicates low testosterone. 
AMS score calculation site: https://globalrph.com/medcalcs/aging-males-symptoms-ams-scale/
As a result of investigating the relationship between AMS score and free testosterone in 193 Male menopausal patients, 85% (164 cases) had an AMS score of 27 points or more and a free testosterone level of 11.8 pg/mL or less. 
As I wrote last time about testosterone boosters, boosters are drugs that increase the body's natural production of testosterone. There seems to be no testosterone oral medicine, but there are gels and ointments that are absorbed directly through the skin. Generally speaking, direct absorption is much more efficient than boosters, so I think you should choose this. When I looked at the clinical trial papers, there were two types of products. One is Daito Pharmaceutical Co., Ltd.'s 1% testosterone-containing cream "Glomin," which can be purchased at pharmacies without a prescription. The academic information of Gromin is as follows.
https://www.daito-p.co.jp/gm/gm_paper.htm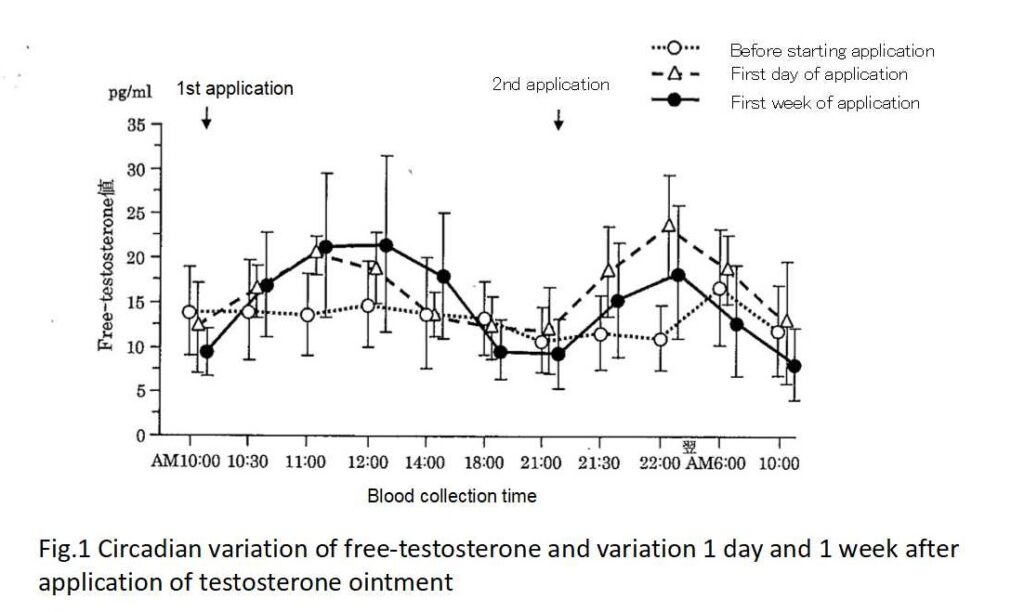 Blood free testosterone concentration by age

According to a research report from the Department of Urology, St. Marianna University School of Medicine, 4 volunteers (aged 40-60) took about 2 cm of testosterone from the tube twice a day and applied it to the scrotum to measure the amount of free testosterone in the blood. The results are shown in Figure 1. Generally, a free testosterone level of 11.8 pg/ml or more is normal, 11.8 to 8.5 pg/ml is considered cautionary (borderline), and 8.5 pg/ml or less is clearly low. 
To read more please click the button below to become a member